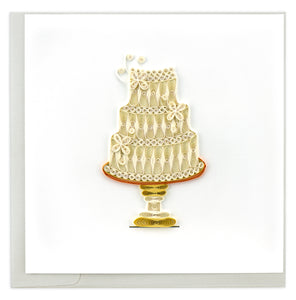 Don't just send a card... send ART!
Quilling is the art of rolling, coiling and shaping of small strips of paper to create a cohesive three-dimensional design which has been practiced for centuries. Historians have been able to date the art form back to Ancient Egyptian times where crafters would use a bird's feather (quill) as the tool to coil the paper upon.
Watch their face light up with delight and wonder when they look inside the coordinating envelope to see a gorgeous piece of art. These cards make a beautiful gift on their own, or add a custom frame to ensure their art will be cherished forever.
Card measure 6" x 6" (6.25" x 6.25" in envelope) and are blank inside.